Well, if it isn't the season we've all been waiting for – SUMMER! And what better way to spend your summer than soaking up the sun in Greece?
From crystal clear waters to yummy cuisine, Greece has everything you need for an unforgettable summer vacation.
Before you pack your bags and hop on a plane, as an expert in Greek summer holidays and as a local myself for 2 years in this country, there are a few things you should know about what to expect during a Greek summer holiday.
So sit back, grab yourself an ice-cold frappe, and let's dive into my complete guide to Summer in Greece from a local's point of view!
Disclaimer: This post contains affiliate advertising links. This means that if you click through any of the links on this page and decide to make a booking I get a small commission, at no extra cost to you. This helps fund the running costs of my site.
Getting to and around Greece
Greece is easily accessible by air, and you'll find international airports in major cities like Athens, Thessaloniki, and Heraklion. If you prefer a more scenic route, you can also rent a car or a sailboat and wonder the beauty of the Greek landscape.
Best Time to Visit
Greece is a year-round destination, but the best time to experience its full glory is spring (April to June) and autumn (September to October). The weather is pleasant, the crowds are smaller, and you'll get the most out of your trip.
Where to stay in Greece
You can book your hotel via Booking.com as they consistently have the cheapest rates for hotels and guesthouses.
If you prefer a hostel, then you can book with Hostelworld as they have the best deals and the most extensive inventory.
Don't Forget Travel Insurance
Travel insurance protects you against theft, illness and cancellations. EKTA covers travellers all over the World with 24/7 client support from 1.65 USD a day.
European eSIM
With eSIMs from Airalo, you can download and install a digital data pack for over 200 countries/regions and connect anywhere in the world as soon as you land.
Book Your Attraction Tickets
Get Your Guide, Viator and Tiqets are some of my favourites.
Summer in Greece Weather
Summer in Greece is known for its warm and sunny weather, which is the ideal destination for sun-seekers and beach lovers. The Mediterranean climate of Greece gives the country long, hot summers with minimal rainfall. Here is a breakdown of the weather you can expect during the summer months in Greece:
June
In June, summer is just beginning, and temperatures start to rise. The average temperatures range from 25°C to 30°C (77°F to 86°F) in most parts of Greece. The weather is generally sunny and pleasant, with minimal rainfall. The sea temperatures are warm, especially in southern Greece, perfect for swimming and water activities.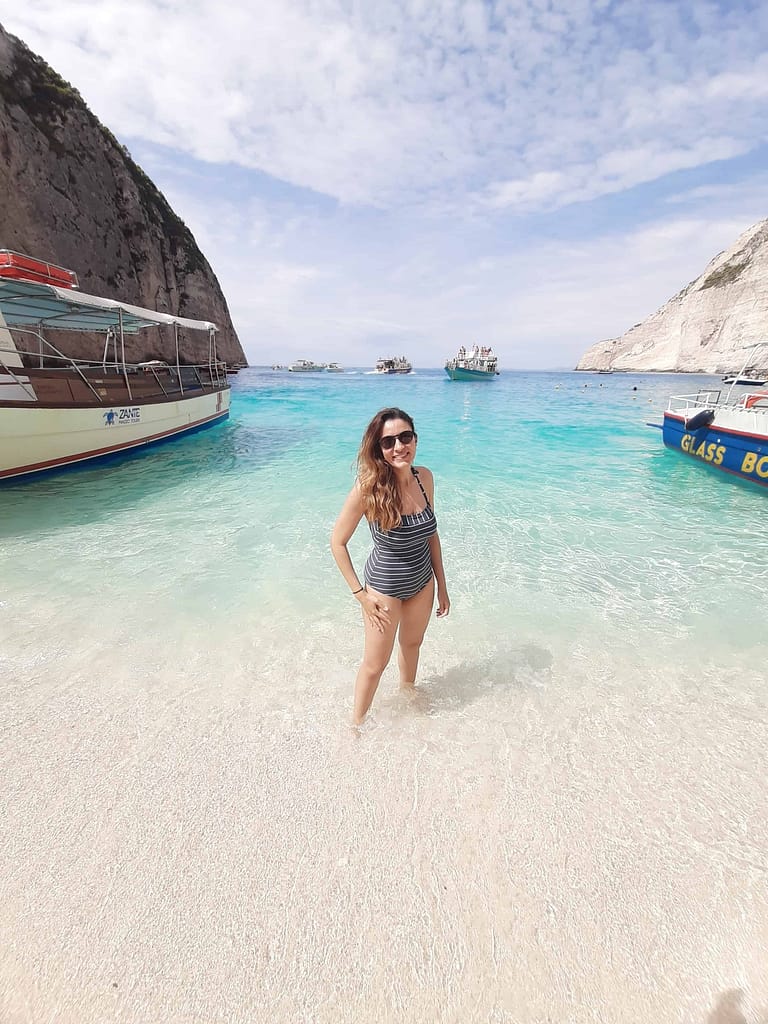 July and August
July and August are the hottest months in Greece, with temperatures ranging from 30°C to 35°C (86°F to 95°F) or even higher in some regions. It barely rains during these months, although there can be quick showers. The coastal areas and islands are lucky to get the sea breeze to help with the heat. It's important to stay hydrated and apply sunscreen when outdoors.
September
September marks the end of summer in Greece, but the weather remains warm and pleasant. Daytime temperatures range from 25°C to 30°C (77°F to 86°F), gradually starting to cool towards the end of the month. The sea temperatures are still warm, and the peak tourist season comes to an end in most places. It's one of my favourite months to enjoy the beach without crowds.
It's worth noting that Greece is a diverse country, and weather conditions can vary across different regions. Coastal areas and islands have milder temperatures due to the sea breeze, while inland areas can be much hotter. Additionally, the northern parts of Greece, such as Thessaloniki may have different weather compared to the southern regions and islands.
Overall, summer in Greece offers long, sunny days with high temperatures, making it a perfect time to enjoy the stunning beaches, explore ancient ruins, and indulge in the country's culture.
Where to Travel During Summer in Greece
If you're looking for destinations to visit during the Greek summer, check out my recommendations. There are many islands and cities to choose from, and deciding where to go can be overwhelming. Let's dive into some of my suggestions on where to travel during summer in Greece!
Mani Peninsula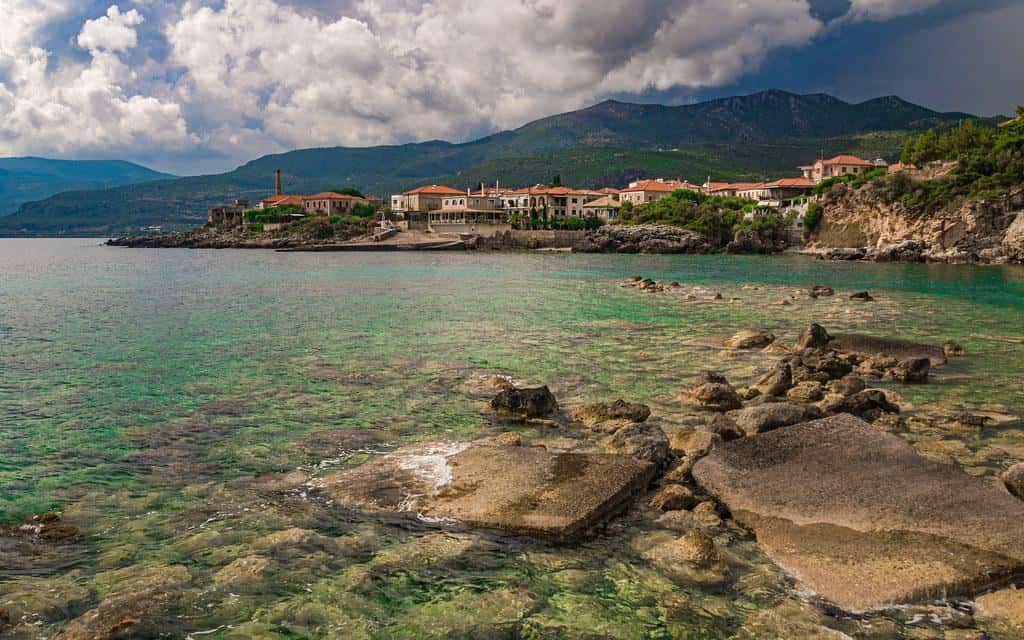 Mani Peninsula is located in the southernmost region of mainland Greece. The major highlight of the region is the traditional stone villages. Towering stone houses, known as "towers" or "pyrgospita" (pyrgos means tower and spiti means house) dominate the villages, reflecting the area's defensive past. The tower houses were built by local clans as a means of protection during times of conflict, including pirate attacks.
You can hire a car and drive through the villages of Kardamyli, Areopoli, and Vathia where you can walk through narrow cobblestone streets, admire the houses, and eat at one of the traditional taverns.
Diros Caves, located near the village of Pirgos Dirou, have stalactite formations and an underground river, providing a unique subterranean adventure. I definitely recommend this experience to anyone!
Stoupa and Agios Nikolaos offer sandy beaches ideal for swimming and sunbathing.
You can also have an adventure on the water kayaking, exploring hidden coves and having lunch at the end of the activity.
Monemvasia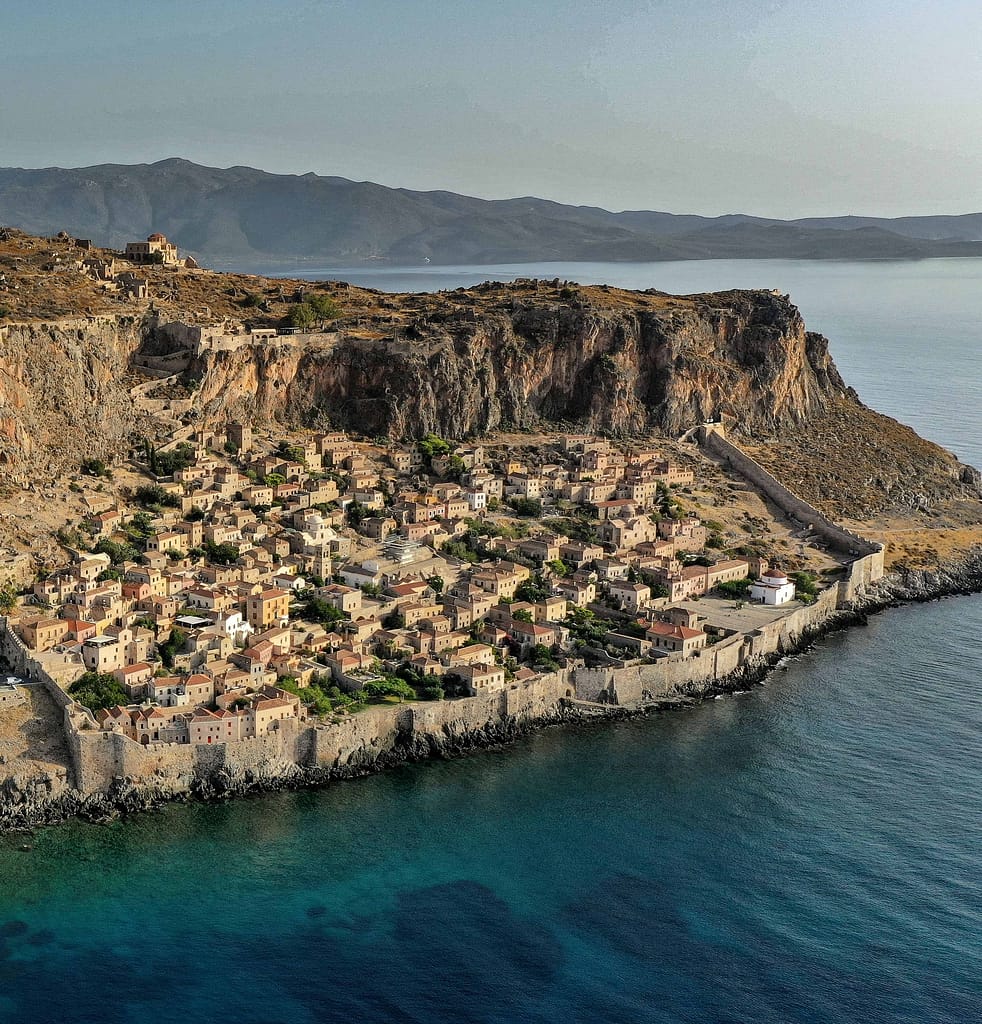 Monemvasia is a small town located on a rocky island off the southeast coast of the Peloponnese peninsula in Greece. The town is known for its unique and beautiful town steeped in history with picturesque stone houses and narrow alleys up the hillside. I recommend you have some comfy shoes for walking in the old town.
Parga and Sivota: the Epirus Riviera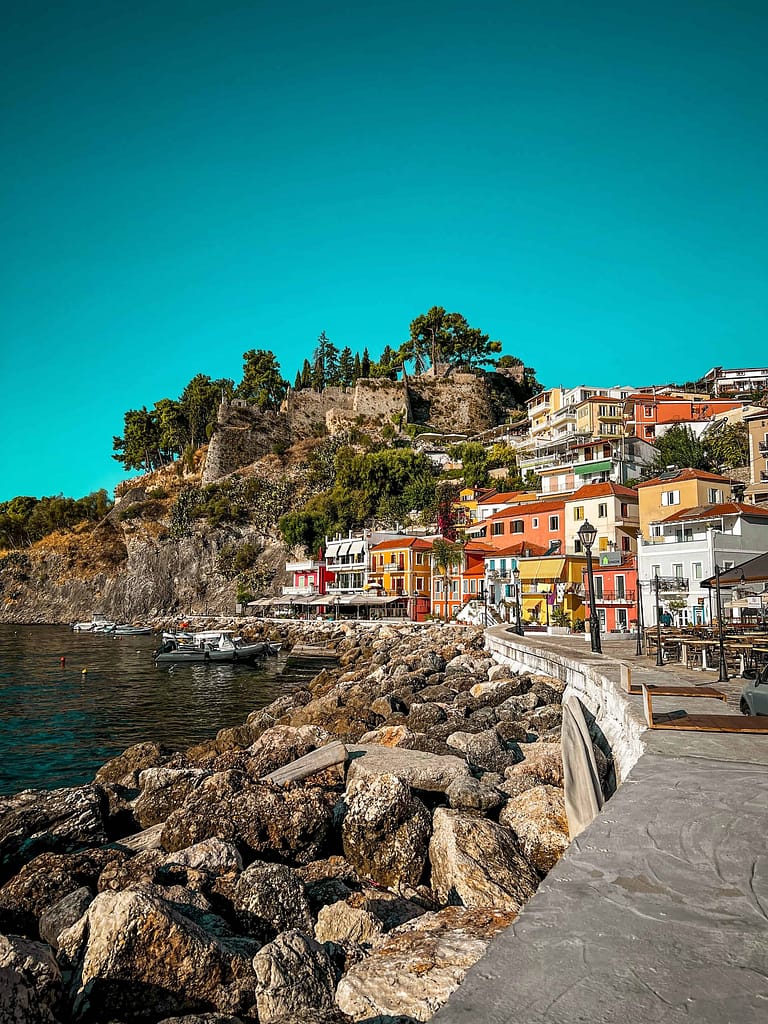 Parga and Sivota, located on the northwest coast of Greece in the region of Epirus, are two pretty coastal destinations often referred to as the Epirus Riviera. Parga's colourful houses, narrow cobblestone streets, and Venetian castle create a postcard-perfect photo.
Sivota is famous for the Blue Lagoon, located on the nearby island of Mourtemeno. The lagoon's crystal-clear waters and secret spot make it a perfect spot for swimming and snorkelling.
Athens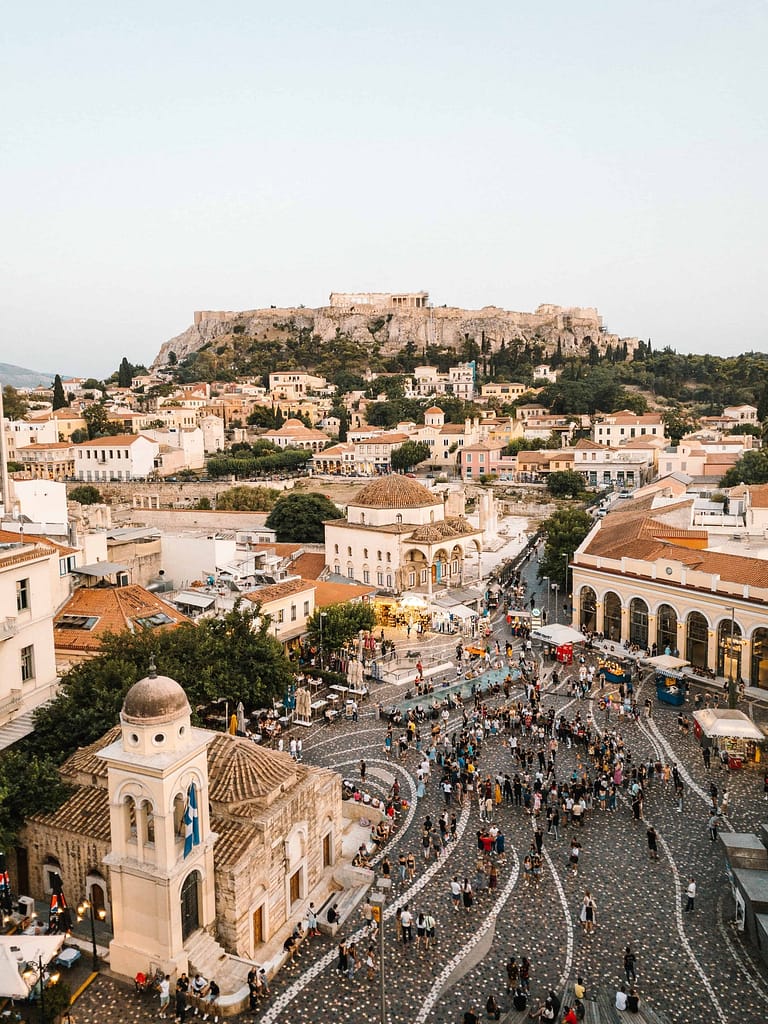 I only recommend you visit Athens in August when there are not so many locals in the city as they are travelling outside the capital for holidays. Greeks visit their families and go to the coastal areas to escape the heat of the city, therefore the city is not as crowded. But, very important, keep in mind the temperatures tend to be very high, so I would only stay a few days in the city if you've never visited before and then head to the coast.
Discover the Acropolis in the early morning and then stroll through the historic Plaka neighbourhood, eat in a taverna and shop around. Check out my one-day itinerary in Athens.
Crete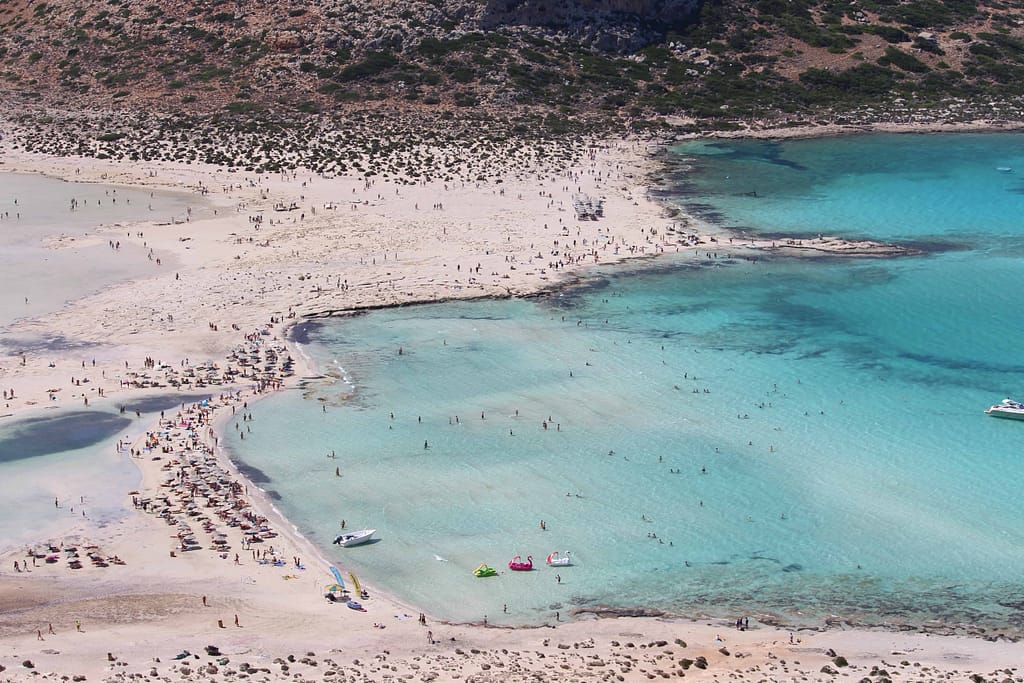 Crete, Greece's largest island, has stunning beaches with turquoise waters and picturesque villages in the mountains. Explore the ancient Minoan civilization at the Palace of Knossos, hike the Samaria Gorge, or unwind on the golden beaches of Balos and Elafonisi.
Rhodes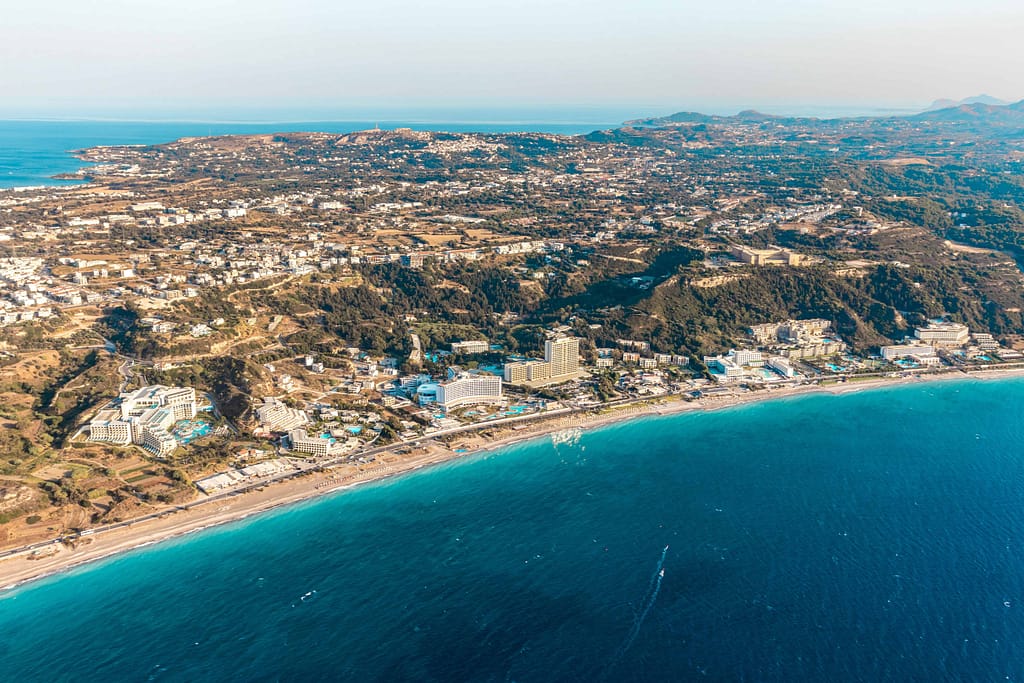 Rhodes, located in the southeastern Aegean Sea, has a medieval charm. Wander through the streets of Rhodes Old Town, a UNESCO World Heritage site, and discover its medieval walls and the Palace of the Grand Master. Relax at the beach, explore ancient ruins like the Acropolis of Lindos, or take a boat trip to the nearby island of Symi.
Festivals During the Summer in Greece
Summer in Greece is not just about the sun, sea, and historical sites; it's also a season filled with festivals and cultural celebrations. Greeks take great pride in their traditions and heritage, and these festivals give you a great opportunity to immerse yourself in the country's culture. Here are some of the most popular festivals that take place during the summer months.
Epidaurus Festival (June to August)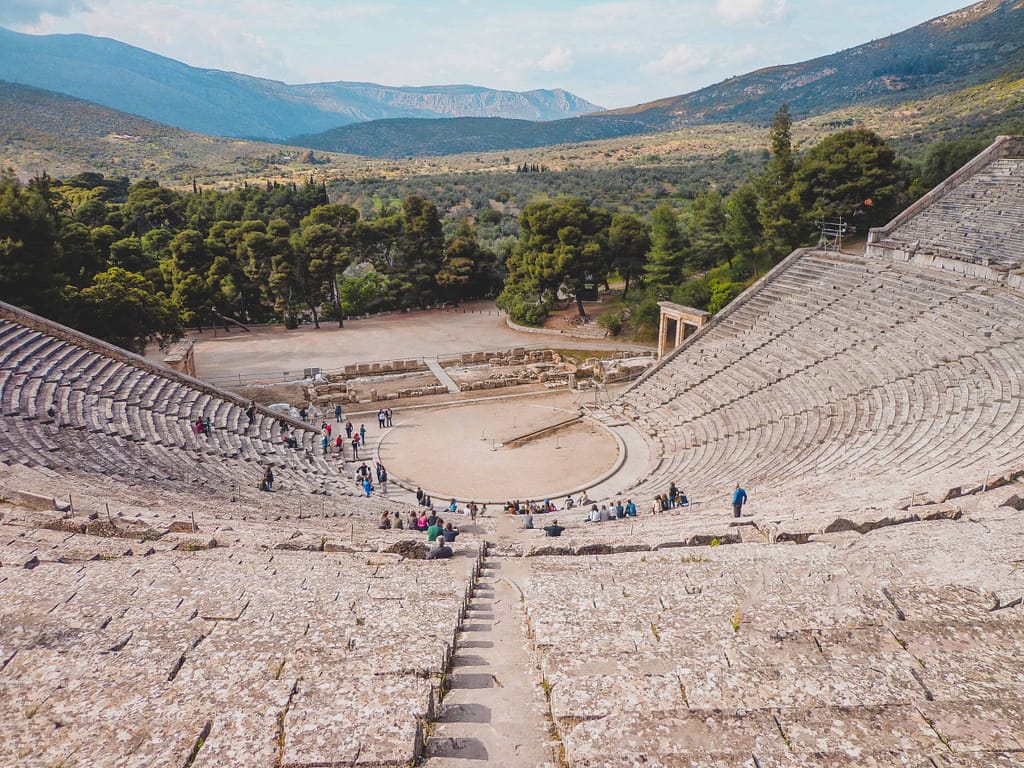 The Athens Epidaurus Festival is one of the most prestigious cultural events in Greece. It features a diverse program of music, theatre, and dance performances held at iconic venues, including the ancient theatre of Epidaurus and the Odeon of Herodes Atticus in Athens. From classical plays to contemporary dance performances, this festival showcases Greece's artistic excellence.
What is better than watching a Greek tragedy hosted in the 4th century BC theatre? I suggest you check the programme and buy tickets in advance.
Rockwave Festival (July)
Rockwave Festival is a festival for lovers of rock and pop music. Held in Athens, this multi-day event has performances by both Greek and international artists from established bands to new talents.
The Ascension of the Virgin Mary
On the 15th of August, Greeks celebrate Ascension Day. It is believed that on this day, Virgin Mary fell into an eternal sleep and ascended to heaven. It is a public holiday and many Greek families celebrate together.
Greek "panygiria": Greek folk festivals
Greek "panygiria" are traditional folk festivals that hold great significance in Greek culture. They are rooted in ancient traditions and customs, bringing people together to honour saints, commemorate historical events, and celebrate the heritage of Greece.
The "panygiria" are held in school playgrounds and squares of the villages. In this celebration, Greeks eat gourounopoula (roasted pig) and meat squares.
How to Survive Summer In Greece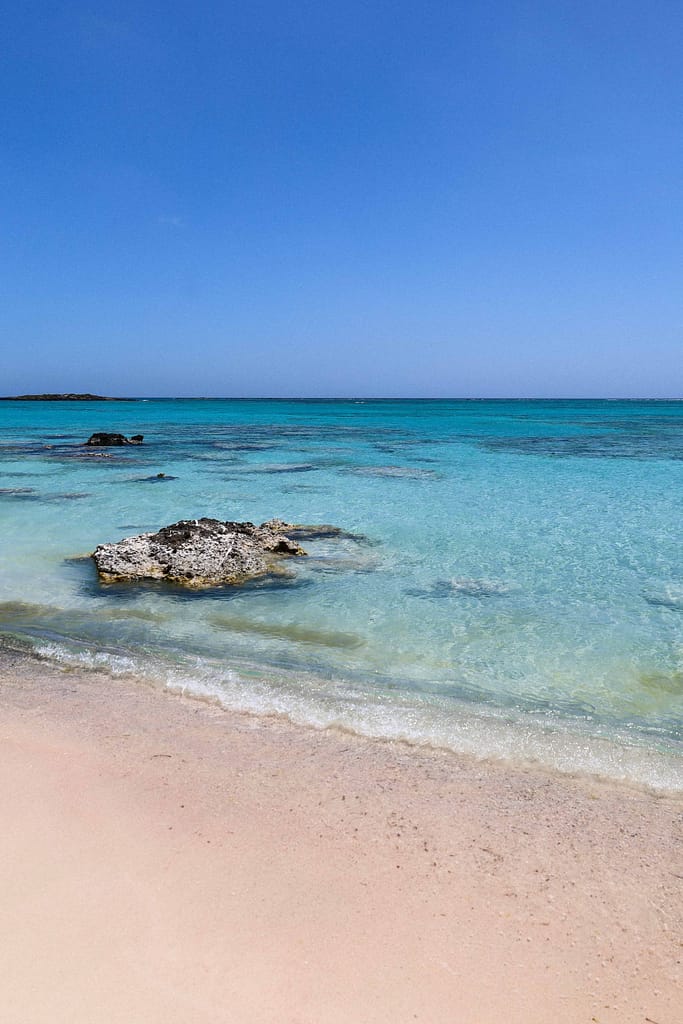 Greek summers can be hot and intense, so here are a few tips so you can make the most of the summer in Greece:
Stay Hydrated
Carry a reusable water bottle with you and drink plenty of fluids throughout the day, especially water. You can also enjoy traditional Greek frappé coffee or freshly squeezed juices.
Protect Yourself from the Sun
The sun in Greece can be intense, so it's crucial to protect your skin and eyes. Apply and reapply sunscreen with a high SPF regularly, wear a hat, and use sunglasses to protect your eyes from harmful UV rays. Seek shade during the hottest hours of the day, usually between 12 pm and 4 pm.
Dress Appropriately
Opt for lightweight, breathable clothing made of natural fabrics like cotton or linen. Loose-fitting and light-coloured clothes will help keep you cool and comfortable. Don't forget to wear comfortable shoes for walking and exploring, as you'll likely be doing a lot of that.
Plan Activities Wisely
Take advantage of the cooler hours in the early morning or late afternoon to explore outdoor attractions and basically do physical activities. This way, you can avoid the peak heat of the day. Relax at the beach or indoors during the hottest parts of the day.
Enjoy Siesta Time
Many shops, restaurants, and attractions close for a few hours during the afternoon time. Use this time to rest in a cool place, recharge, and escape the heat of the day.
Embrace the Greek Lifestyle
The Greek lifestyle during the summer months revolves around leisure and relaxation. Embrace the laid-back atmosphere and adopt the "siga siga" (slowly, slowly) mentality. Enjoy long meals at tavernas, take swims in the sea, and savour the nightlife when the temperatures cool down in the evening.
Explore Coastal Areas and Islands
Take advantage of Greece's coastal areas and islands, where the sea breeze offers a break from the heat. Swim in the crystal-clear waters, relax on sandy beaches, and indulge in water activities like snorkelling or kayaking. Coastal destinations usually have a more temperate climate compared to inland areas.
Eat Light Cuisine
Greek cuisine offers several delicious and refreshing dishes perfect for the summer. Opt for light and fresh options like Greek salads, tzatziki, olives, and grilled seafood.
Conclusion
I hope this article helps you make the most of your Greek summer vacation. Embrace the Mediterranean lifestyle, and enjoy the beauty and the culture that Greece has to offer during this amazing summer season.
Going to Greece? Read all the articles in Greece.